Softrail
SoftRail is the most advanced and interactive software solution for the management of rail activities ever developed. With one single tool, indeed, it is possible to manage and organize operational personnel, rolling stock and security activities.
LogiShift
The most advanced system for a coordinated planning of employees and company's vehicles fleets who provides all visual tools required for the periodical scheduling.
MainTrack
MainTrack allows to plan and monitor the activities of preventive and corrective maintenance, managing all information in electronic format.
RailMobile
The electronic folder for the train driver to collect, organize and distribute all the employees documentation who allows real-time communications between the rail company management and its operational personnel.
SkillPlan
The software designed to furnish HR with a professional tool to plan, monitor and manage all the activities of training, refreshing and employees auditing.
TrainShunt
TrainShunt allows to manage railway shunting operations in a simple and controlled way, with a graphical display of the service location's tracks and the possibility to exchange information with external systems.
VerForm
Collects and processes data related to train inspections and activities verification, generating real-time digital documents for the use of the operational personnel.
Binary System is the company that has given mobility to railway undertakings

Thanks to its technical team of researchers and the well-established partnerships with most importante devices manufacturers, Binary System has created a suite of products capable of integrating web and mobile management and representing excellence on the market. Entirely custom-made and characterized for their usability, integration and portability, our software solutions are specially designed on our customers needs and integrated with last generation devices such as smartphones and tablets.
Latest news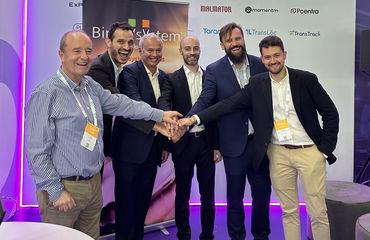 We are thrilled to announce the expansion of Binary System in Spain, supported by its parent company, Modaxo. As a leading software solutions provi...
Read more